THIRD TIME LUCKY FOR RODRIGUEZ
Current discipline: Freestyle
Judging Criteria: Pure freestyle (4 tricks from 4 different trick families count from 7 attempts. Riders take turns to perform one trick in a minute)
Format: Dingle elimination. Men's winners from round one have advanced to round 3, second and third placed riders start round 2 today
Wind: 9 – 11m weather
Reports: Jim Gaunt
Photos: Ydwer van der Heide
Videos: Oliver Umpierre
All heat updates, including the livestream, live heats, ladders and heat notes can be found here on the live event page.
The lagoon in front of Dakhla Attitude threw up some huge news today with Championship contenders Chabloz, Mario and Coccoluto all ejected in the quarter finals. Whaley, Rodriguez and Corniel were looking hot and indeed made it to the final alongside French rider Nicolas Delmas.
HIGHLIGHTS
Here's how the final went down.
THE FINAL
Nicolas Delmas (FRA) / Adeuri Corniel (DR) / Liam Whaley (ESP) / Valentin Rodriguez (COL)
Going into this final, the four most consistent riders had made it and had really been streaks ahead. Rodriguez had the the highest heat score of the event with 34.63 points, just ahead of Liam's 34.5 and 33.14. But tour leader Adeuri Corniel hadn't scored less than 30 points all competition, while French rider Nicolas Delmas is riding on a high, making his second consecutive final. Another consistent 30 point rider.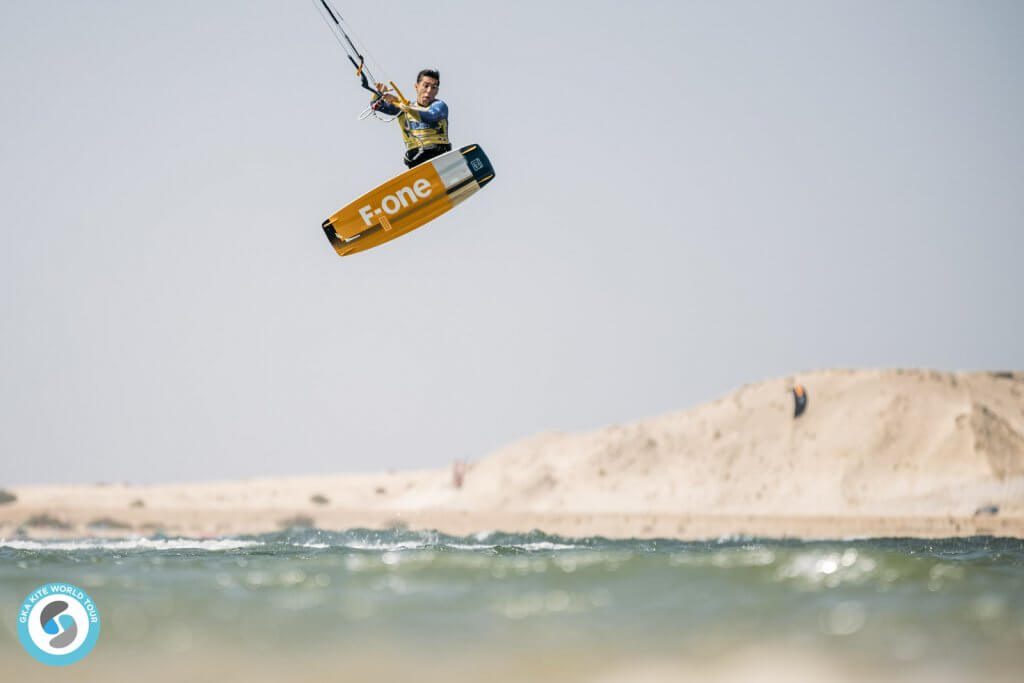 So we were set for something special and weren't disappointed. All riders went for similar 317 / 319 tricks first and it was Liam who made the early advance with a spell binding 9.07 for a backside 319.
Things remained tight between Liam, Adeuri and Valentin for the first four tricks, with Adeuri in particular time and again showing how much height he gets, but it was Valentin who became the second rider in the final to score a 9 for just about the most perfect slim 9 you could imagine on trick three. The 17 year-old clearly looked pleased, waving to the crowd because it was a clean landing. A 9.4! He opened up a little gap at the top by a couple of points.
Nicolas Delmas had a succession of crashes before landing a a hinterberger 5 and looked annoyed that it wasn't a 7. He knew he wasn't riding his best, which is a shame and must be frustrating in a final.
That frustration obviously continued and he pushed just too hard on trick 5, travelling a huge distance but lost position and control over his rotation and came down incredibly hard, full speed and his knees buckled. The competition had to go on hold while the safety boat got him back to the beach. Sadly that was the end for him – and we wish him well because that was a big crash and sad for a rider who has been improving so quickly.
When the action resumed Adeuri still couldn't' break into the 9s, but Liam did again with a super neat grabbed slim 9. Absolutely top drawer. A 9.2 was big, but he needed to improve his two 7 point scores, though luckily for him Valentin then crashed a beautiful back mobe 5 attempt.
Going into the sixth (penultimate trick), all three were over 30 points and it was anyone's game. Adeuri moved up a gear with a massive slim 9 – slight butt check but still a good score of 8.73.
Liam improved his previous 317 score, upping it to 7.93 and moved ahead.
Valentin was next… and oh my goodness, what an incredible heart attack 7! Moves like that just keep going and going forever. He covered such distance, so risky and wasrewarded with 9.77. Amazing. Moved him to first and the highest heat score of the competition 36.13.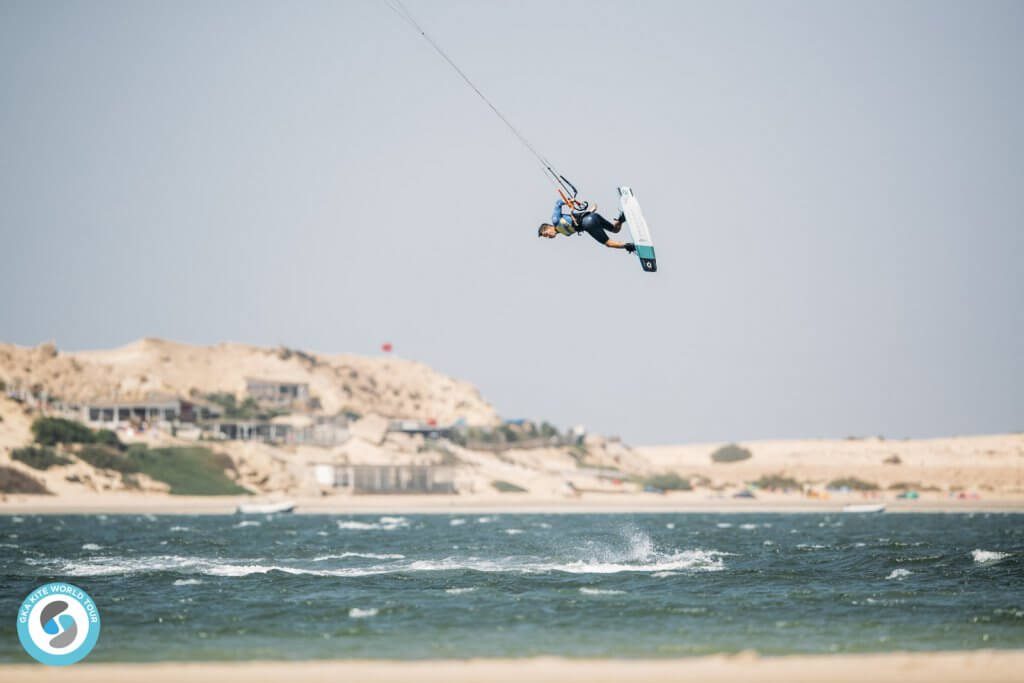 LAST TRICK
Corniel crashed, so would remain in third.
Liam needed a 9.94 to take the win. He's had 10s before, and he's been riding well here… but surely that was too much. He missed the perfect pop when loading his edge, looked to be going for a 319, but didn't complete it.
So in his third final this season the young Colombian made it stick, earning his first event win. Valentin Rodriguez was on the victory lap with one trick to go. Great for him after losing in such a cruel fashion on the last trick in Mauritius to Adeuri and by just 0.01. Here he turned things around emphatically with the highest heat score of the event, with two 8s and two 9s: 36.13.
The Colombian came steaming into the beach and rode his board a hundred metres inland and got a little moment to process it all on his own before his friends came and swamped him. First win in his first full season and with that has made himself one of the big favourites for this year's title at the finals in Brazil, taking advantage of the fact that Carlos Mario and Maxime Chabloz went out of this event in the quarter finals. So a big points catch up there on what is a tight current ranking for the top six.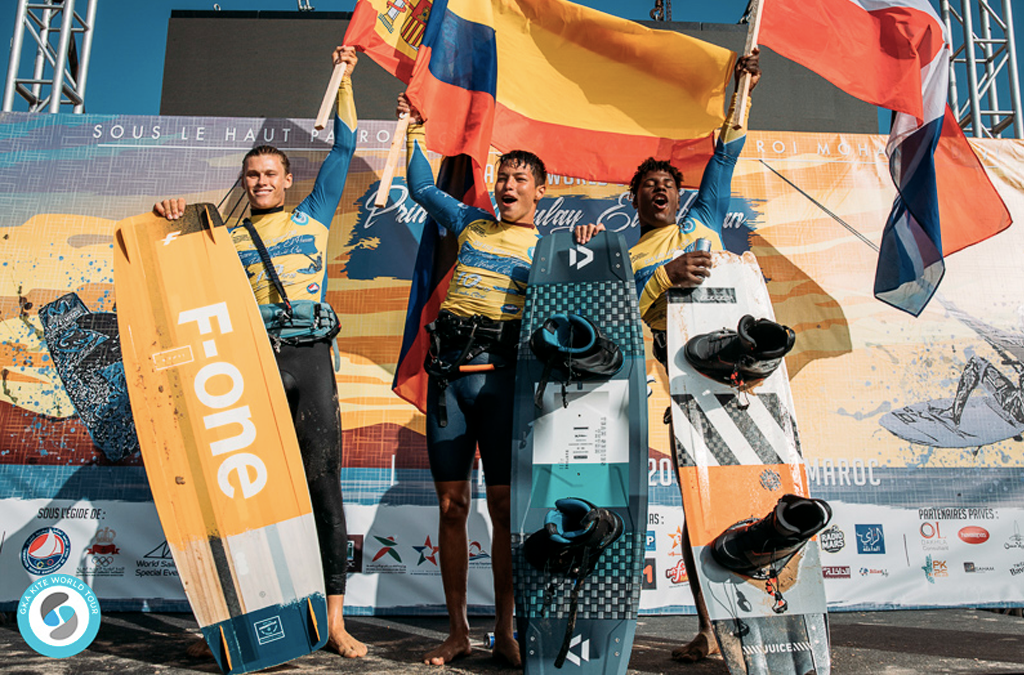 FINAL RESULT:
1 Valentin Rodriguez (COL): 36.13
2 Liam Whaley (ESP): 34.1
3 Adeuri Corniel (DR): 32.9
4 Nicolas Delmas (FRA): 14.2 (retired injured after 5th trick)
Click here to go to the live event page with heat scores, ladders and all heat notes.
LIVESTREAM FOOTAGE FROM TODAY
Fuente: https://www.gkakiteworldtour.com/saturdays-action-dakhla-day-2/